Your wedding planner Lisa
As your wedding planner, I'm here to give you space to let go, to laugh, to love, and to ensure that you savor every exquisite moment of your flawlessly planned wedding.
A goal without a plan is just a wish
Ever since my childhood, weddings have been a magical, great force of attraction for me. I, however, never could have dreamed back then that I would start a career as a self-employed wedding planner.
My love for planning and organizing events and celebrations, along with the joy of making life easier for others, shaped me throughout my professional journey after my business studies, and ultimately led me to my current profession. I value the personal and creative collaboration with my clients and love designing new and unique experiences.
My personal, successful and quite complex, wedding, which I planned in 2017, offered the decisive push to shift my professional focus to the wedding industry. As an IHK-certified wedding planner, I have successfully been running my own agency, "Das Heiratsatelier", since 2019 and have had the pleasure of accompanying many wonderful couples on their journey to happiness together (or as a family of three).
I look forward to making your wedding dreams and wishes come true soon as well.
Warm regards,
Lisa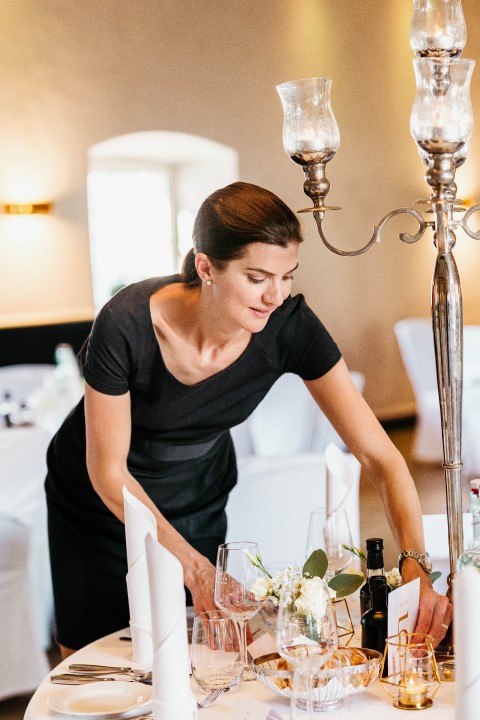 I love:
The fascinating Southern Pacific Ocean and its unique beauty and diversity; to me, the definition of a paradise. I also love pink lilies and to put wood behind the arrow.
I don't care for:
Unreliability, carelessness, arrogance
I've been a Wedding Planner since:
2018
My career in brief:
Business administration studies with a focus on tourism, various executive roles in aviation and healthcare, personal assistant to the owner of an international holding company. Further education as a wedding planner in 2018 (IHK) and founding my own "GmbH" in 2019.
I have a weakness for:
Rosé champagne, tiger king prawns, lava cakes
My favorite place:
By the sea with my loved ones
And other than that?
I'm almost addicted to traveling and discovering new countries or revisiting and rediscovering familiar places. Both professionally and personally, I have had the opportunity to live in the USA and Japan for an extended period of time and to immerse myself in these fascinating cultures.
My motto:
Just do it – if not now, then when?
At the beginning of each planning journey, we properly get to know each other. After you reach out to me, we will have an initial phone call to capture your general ideas and wishes for your dream wedding and to give you a taste of how we can realize them together. You will gain a deeper insight into my work style and my offerings and services.
In the next step, we will meet in person to get to know each other even better. I'm very curious to hear about YOUR story, your wishes, your preferences, and even what you don't fancy.
During the active planning phase, we really get started: step by step, we build your wedding, and I share your preferences and concerns. You can think of me as your representative and sparring partner in all matters. Often, over the (long) planning period, a very close collaboration and a kind of temporary friendship develop.
To provide you with the best options, I prefer to work with carefully selected and reliable service providers. The high quality of your wedding planning and your satisfaction are my greatest motivation. Of course, you always have a say, and I am also happy to get to know the service providers you trust.
Together, we will create your elegant wedding at a beautiful location with exquisite food, a sophisticated and inviting atmosphere, and a lot of fun for you and your loved ones. All with the goal of creating wonderful and unforgettable experiences and memories for all of you.